HemRid Total Care Bundle: HemRid Max Supplement, Lidocaine Cream & Fiber Gummies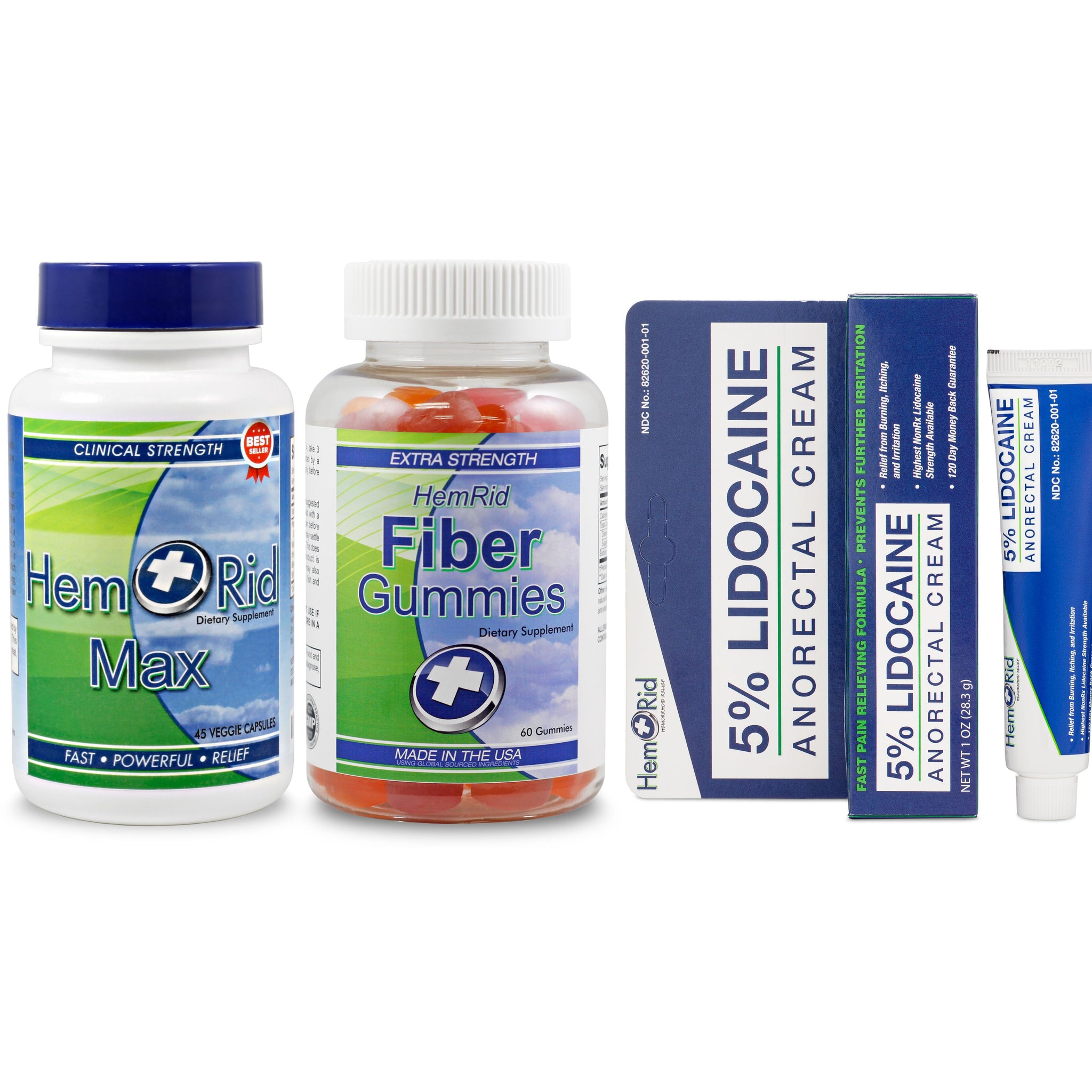 HemRid Total Care Bundle: HemRid Max Supplement, Lidocaine Cream & Fiber Gummies



Frequently Bought Together
Get treatment from multiple recources by bundling with our other products
Try our supplements for an herbal treatment, our fiber gummies for digestive health, our lidocaine cream for immediate pain relief, or save by bundling all 3 for the ultimate hemroid protection package!

HemRid Max - Get Fast Hemorrhoid Relief.
+
+

Hemorrhoid Cream with Lidocaine 5%
Description
ENHANCED VEIN AND CIRCULATORY SUPPORT WITH HEMRID MAX. Our HemRid Max is thoughtfully formulated with potent, natural ingredients to promote healthier vein function and circulation, aiming to address the internal root causes of hemorrhoidal discomfort with consistent use.
IMMEDIATE TOPOCAL RELIEF WITH HEMRID LIDOCAINE CREAM. For those moments when external discomfort strikes, HemRid Lidocaine Cream provides a swift, soothing effect, offering a comforting respite through its locally acting anesthetic properties.
GUT HEALTH OPTIMIZATION WITH HEMRID FIBER GUMMIES. Complement your hemorrhoidal care routine with HemRid Fiber Gummies, designed to promote regularity and digestive health with a clinically studied fiber, supporting the overall management of hemorrhoidal symptoms.
INTEGRATED APPROACH TO HEMORRHOIDAL WELLNESS. The HemRid Triple Care Action Bundle unites internal, external, and digestive care, offering a holistic strategy for those seeking an all-encompassing approach to hemorrhoidal health and comfort.
QUALITY ASSURANCE AND CUSTOMER SATISFACTION GUARANTEED. Crafted in GMP-certified facilities in the USA, our HemRid products come with a promise of quality and a 120-day satisfaction guarantee, reflecting our unwavering commitment to your health and comfort.
MORE INFORMATION
Discover the all-encompassing HemRid Triple Action Bundle, a total approach to supporting your comfort and well-being. It brings together our robust HemRid Max Supplement, the soothing HemRid Lidocaine Cream, and the digestive-friendly HemRid Fiber Gummies.
HemRid Max Supplement is tailored with clinically-researched natural ingredients known for aiding vein health and circulatory wellness. Antioxidants and flavonoids within work in harmony to maintain venous system integrity, laying the groundwork for overall well-being.
HemRid Lidocaine Cream offers swift, external hemorrhoid pain relief, lessening discomfort with the anesthetic strength of Lidocaine, ideal for the acute relief of burning and itching.
The addition of HemRid Fiber Gummies promotes digestive regularity and gut health, an essential aspect of hemorrhoidal care. These fruit-flavored gummies provide an easy and enjoyable way to support daily fiber intake. Crafted in the USA following GMP standards, the HemRid Triple Care Action Bundle is a testament to quality, safety, and efficacy. This trio is your comprehensive ally against hemorrhoidal challenges, designed to assist in your journey to comfort and optimal health.


SCIENTIFICALLY BACKED FORMULA
Our supplement is crafted based on the latest scientific research, ensuring maximum effectivenes

CLINICALLY RESEARCHED INGREDIENTS
Each ingredient in our blend is chosen for its clinically supported benefits, backed by studies and research

ALL NATURAL FORMULA
Embrace the purity of nature with our all-natural formula, free from synthetic additives and harsh chemicals